Georgia Pacific 20241 Premium Multifold Paper Towel White 2400/carton
UPC 078731014580
from
Georgia-Pacific
Premium Multifold Paper Towel White 2400/carton.Paper towels with C-Fold Design are crafted to be used in standard-size towel dispensers.Absorbent for restroom and industrial use.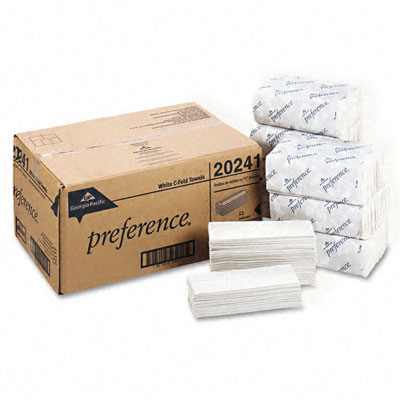 Packaging, labels and appearance may vary.
Product Code Matches
| | |
| --- | --- |
| 00078731014580 | GTIN-14 |
| 0078731014580 | EAN13 GTIN-13 |
| 078731014580 | UPC GTIN-12 |
Code Attributes
Range assigned to USA
Range assignments indicate the country assigning the code. (This is not the same as country of origin for products.)
UPC-A Barcode Image




EAN-13 Barcode Image




Where To Buy - New
---
Amazon
Pacific Blue Select C Fold Paper Towels Previously Branded Preference By Gp Pro White 20241 200 Towels Per Pack 12 Packs Per Cas
---
UnbeatableSale
Georgia Pacific 20241 Premium Multifold Paper Towel White 2400/carton
$43.96
---
eBay
Pacific Blue Select Paper Towel C Fold 3 1/4 X 10 1/4 Inch Case of 12
Prices are sampled periodically and are subject to change at any time without notice.
Item pricing may not include shipping charges.
For the most current pricing and shipping terms, view the listing on the offering site.

---
Product data is subject to change without notice. You should always review the seller's website for details and specifics of the item you are purchasing or viewing. No warranty for accuracy or currency of this data is implied or provided. Product listings are not recommendations. See complete
Terms
Copyright © 2018