Pine Tree Farms PTFFD6000 Year Round And Woodpecker Suet Display
GTIN 90748884060002
from
Pine Tree Farms, Inc.
SKU/Model Number: PTFFD6000
FeatureProduct type - Suet display.A stand alone display featuring our year round and woodpecker suets.Display contains cases of 2.Our year round suet and of our woodpecker suet.Design - Year round and woodpecker.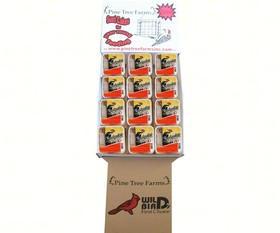 Packaging, labels and appearance may vary.
UPC-A Barcode Image




EAN-13 Barcode Image




Where To Buy - New
---
UnbeatableSale
Pine Tree Farms PTFFD6000 Year Round And Woodpecker Suet Display
$71.86
---
eBay
Year Round/woodpecker Suet Display
Prices are sampled periodically and are subject to change at any time without notice.
Item pricing may not include shipping charges.
For the most current pricing and shipping terms, view the listing on the offering site.

---
Product data is subject to change without notice. You should always review the seller's website for details and specifics of the item you are purchasing or viewing. No warranty for accuracy or currency of this data is implied or provided. Product listings are not recommendations. See complete
Terms
Copyright © 2018